This beautiful window is in the church of St Mary, Sennicotts, Funtington, West Sussex, a tiny church built in 1829 by Charles Baker the owner of Sennicotts house, who fell out with the local vicar and decided to build his own church and barred, by decree, the local vicar from ever preaching there. Not very Christian when compared to "Acts of Mercy" the East Window designed by Mary Lowndes and erected in 1913.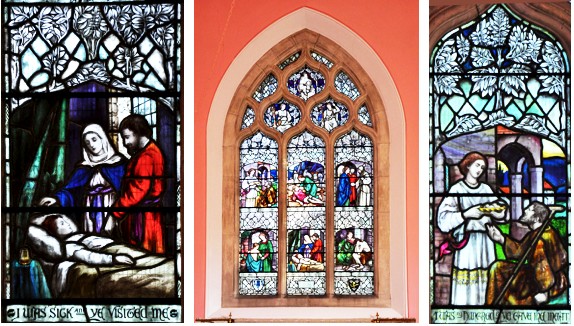 This window depicts all the things Christians should do for others, feeding the hungry, giving the thirsty a drink, giving the lonely a home, clothing the naked, caring for the sick and visiting prisoners. It also depicts Faith Hope and Charity.
The designer, Mary Lowndes, was an amazing woman for her time (1856–1929).  She founded the Glass House Studio in 1908, and arranged space in it for other glass designers to work. She also produced posters, badges and banners for the Suffragette movement and during the First World War, initiated the Chloroform appeal as anaesthetics in France were almost unobtainable, and she organised classes to train women to become acetylene-welders.  By 1916 these newly trained women were competent enough to be working in Aircraft Factories.

By 1920 she owned her own car and had bought her own house, both unusual for a woman at that time. Her beautiful windows can be seen as far away as Nassau or as near to Sennicotts Church, as Boxgrove Priory.  
Pam Hilton
Leader of Chichester Combined Church Recorders